Unfortunately, today, many children, and adults as well, experience teeth trauma (a blow in the teeth). Children experience it more often in school yards and sports grounds. It is very important that you contact us at the shortest possible notice since the injury infliction.
If it happens that a child gets a tooth knocked out it must be brought to the office as soon as possible, without washing or cleaning it. Such tooth will be replanted in its original place and it will reintegrate with the surrounding tissue through splint immobilization over the three-week period.
In case of smaller or larger tooth crown trauma we are able to reconstruct them immediately, i.e. at the first appointment through the eighth generation bonding systems and strong composite materials.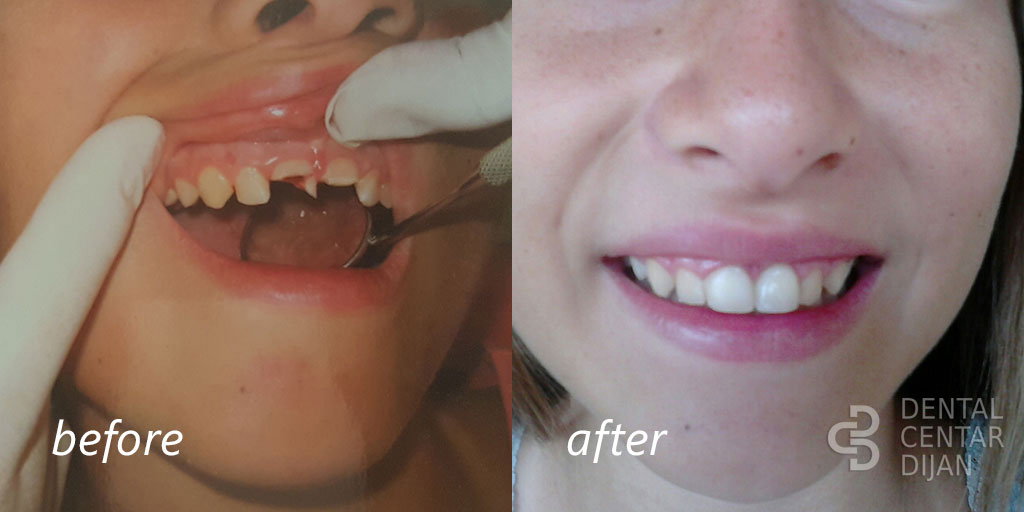 An upset grandmother arrived to our office with her 12-year-old granddaughter. Half an hour ago, the girl fell in the Kolovare swimming pool and broke her two lovely and healthy incisors. The trauma was very severe (left image). First we took care of the vital teeth parts by directly covering the tooth nerve and fastening the loose teeth. The treatment lasted for two weeks, and the teeth crowns were reconstructed so the girl could start a new school year with visually intact teeth (right image).